Alors que la salle devient tout d'un coup sombre, un titantron résonne ici a la NXT.
Présentateur: C'est R-Truth, il est la , ce soir.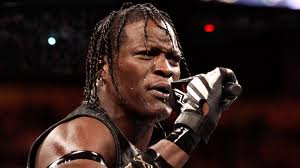 R-Truth: Salut le public, alors ça boum, moi ça va, même très bien, comme vous le voyez je suis nouveau a la WORLD EXTREME WRESTLING, et pour etre plus précis je suis a la NXT. Je suis heureux d'être ici devant vous, Wesh! mon premier but ici c'est de gagner mon premier qui se passera la semaine prochaine sur ce ring et même que je gagnerai un titre ici sur ce ring, je suis ravi d'etre dans ce show pour commencer ma carriere a la WEW, je commencerai par gagner le titre mineur du show puis je gagnerai le titre majeur de ce show Wesh car moi R-Truth je suis un vainqueur, un winner et les autres sont peut-etre des winners mais dans mes match avec vos applaudissement de vous les fans je gagnerai mes match a coup sur Wesh!

Les fans l'applaudisse fort
R-Truth: Je Dominerai NXT et des que ma mission sera gagner ici, eh bah je dominerai Raw, en gagnant le titre mineur et majeur de ce show, et ensuite au tour de Smackdown, en gagnant les titres mineur et majeur Wesh, et la, et la je dominerai la WEW, ça c'est mon objectif, je deviendrai une légende du catch vivante le meilleur des meilleurs Wesh! Avec ma prise de finition What's Up ? Tous mes adversaires vont tomber et je gagnerai tous je dit bien tous mes matchs Wesh! Moi R-Truth, j'ai été dans les plus grande fédération du catch, WWE et TNA sous plusieurs nom mais mon parcours ne vous intéresse points, je le sais car tous le monde s'en fout du passé et moi je vais envisager de faire mon palmares ici a la WEW a NXT car la WEW va devenir la premier fédération de catch au monde Wesh
R-Truth fait un sourire au public et salut un jeune fan
R-Truth: Ne vous inquiéter pas mes fans, je ne vous trahirer pas comme on m'a trahi dans le passé, comme The Miz m'a trahi a la WWE, mais peu importe cela ne change rien dans mes projets futures Wesh! Aucun catcheur dans le roster ne fait peur car je vaincrais tous le monde ici, Voila j'ai fini avec mon discour d'arrivé, je vous remercie de m'avoir écouter sans me huer mais en m'applaudissant Wesh! THE TRUTH HAS SET ME FREE!!!
R-Truth sort du ring et enleve sont t-shirt pour le donner au jeune fan qu'il a salué et se dirige en backstage
Spoiler: